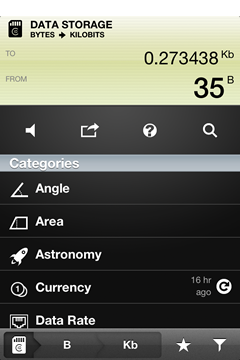 Units 2.0
Units is a simple, yet elegantly designed unit converter. Unlike most other converters, Units looks and works a lot like a calculator. You punch in digits and Units does the conversion on the fly. Its streamlined interface has been designed for day to day use with a primary focus on speed. Speed in changing categories and units, speed in calculating the conversions. And new in version 2, simply type the first few letters of each unit (e.g Pou to Ou for Pounds to Ounces) and Units provides you with the most relevant options.

Units remembers the last used conversion settings for each category. Combinations that you use often can be saved as Shortcuts for quick access later.

Currency exchange rates are updated once a day from our server, but you can also do a manual fetch when you want to.